Summary
Current Position: US Senator since 2011
Affiliation: Republican
Former Position(s): Governor of North Dakota from 2000 – 2010; President of the Bank of North Dakota from 1993 – 2000
Other Positions:  
Ranking Member, Subcommittee on Commodities, Risk Management and Trade – Committee on Agriculture, Nutrition, and Forestry, Conservation, Climate, Forestry and Natural Resources
Ranking Member, Agriculture, Rural Development, Food and Drug Administration, and Related Agencies Subcommittee – Committee on Appropriations
Featured Quote: 
Thank you to SDA & @SpaceX for inviting me out to @SLDelta45 for the launch of @SpaceX's Transporter-2. The satellites are a key part of ensuring that the U.S. wins today's race in space and an important aspect of our efforts to develop operations in #NorthDakota.
Featured Video: 
North Dakota Sen. John Hoeven at the border: "This has to stop RIGHT NOW"
Source: Wikipedia
News
(Fargo, ND) — If you're wondering how some of North Dakota's leaders would handle the situation in Afghanistan, one is speaking out on the issue.
Senator John Hoeven this week joined Senator John Cornyn in pressing President Biden to outline the administration's plans following the Taliban takeover of Afghanistan.
In the letter, Hoeven and his colleagues press the president for answers on several unanswered, urgent issues, including the administration's plans to:
Evacuate Afghan Special Immigrant Visa (SIV) applicants and other vulnerable Afghans;
Ensure that Al Qaida does not resurge and regain a foothold in Afghanistan;
Disable any air forces that operate under orders from the Taliban;
Counter China's growing relationship with the Taliban;
Ensure that the Taliban does not destabilize neighboring Pakistan, and;
Ensure that Afghanistan, under Taliban occupation, will never acquire a nuclear weapon.
"The consequences of withdrawal from Afghanistan are not isolated to that country, or even to the Middle East region. The withdrawal carried geopolitical and strategic consequences that have already begun to unfold and will reverberate for decades. Dealing with these consequences means that we must take action now to chart the course for American strategy, while we manage the immediate repercussions of this self-inflicted crisis in Afghanistan. We do not have the luxury of time to sit by watching in resignation as the aftershocks of this crises shake the world," the senators wrote.
Twitter
About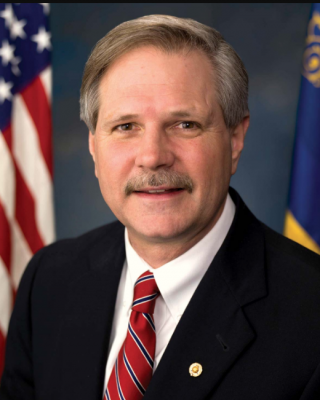 Source: Government page
On January 5, 2011, John Hoeven was sworn in as North Dakota's 22nd U.S. Senator, following ten years of service as the state's governor.
Senator Hoeven's priorities in the Senate include working to implement national policies similar to the ones driving North Dakota's economic success. He is committed to creating a business climate that fosters job growth and robust economic activity. Equally important to the senator are measures to reduce the nation's budget deficits and debt.  He believes a commonsense approach that fosters free enterprise and empowers people to innovate and invest will strengthen our national economy and create jobs for our country in a sustainable, ongoing way.
As a senator, Hoeven has been leading efforts to develop a comprehensive national energy plan similar to North Dakota's EmPower North Dakota, a comprehensive plan that encourages an all-of-the-above approach to development and includes both traditional and renewable resources. Hoeven believes such an approach will lead to jobs, economic growth and true energy security for America.  The senator's work includes serving as the leading advocate for approving the Keystone XL pipeline and advancing measures that will eliminate outdated and unnecessary regulations that are prolonging the approval process and discouraging investment and innovation.
In addition, as a member of both the Agriculture Committee and the conference committee that negotiated the 2014 final farm bill, Hoeven played a crucial role in crafting and passing a long term farm bill that provides the nation's producers with the certainty they need to plan for the future, as well as new tools to manage risk with enhanced crop insurance. The senator continues to work to make sure the farm bill is implemented in a timely and effective way.
Prior to his election to the Senate, Senator Hoeven served as governor of North Dakota for a decade.  Under his leadership, the state expanded and diversified its economy and gained thousands of new jobs.  North Dakota's wages and personal income today continue to grow faster than the national average, and in recent years the state has led the nation in export growth.  North Dakota regularly balances its budget, has set aside more strong reserves for the future, cut taxes, and invested in priorities like education, law enforcement and infrastructure.
As governor, Hoeven also placed a strong focus on developing North Dakota's vast energy resources.  Beginning in 2002, he initiated EmPower ND, a comprehensive energy plan for the state that includes all energy resources as well as a conservation component.  Today, North Dakota stands as an energy powerhouse and one of the largest energy producing and exporting states in the nation. Currently, North Dakota produces more than one million barrels of oil a day and ranks as the second largest oil-producing state in the country.
Senator Hoeven was born in Bismarck.  He earned a bachelor's degree from Dartmouth College in 1979 and a master's degree in business administration from Northwestern University in 1981.  He served as executive vice president of First Western Bank in Minot from 1986 to 1993, and served on many civic, community, and economic development groups.  From 1993-2000, he served as president and CEO of the Bank of North Dakota, which grew from $900 million to $1.6 billion under his leadership.
Hoeven and his wife Mical (Mikey) live in Bismarck.  They have two children, Marcela and Jack, and six grandsons, Crew, Jaxen, Nash, Kip, Hart, and Rhett.
Voting Record
Caucuses 
Senator Hoeven is a member of the following caucuses, task forces or coalitions:
Air Force Caucus
Congressional Sportsmen's Caucus
Senate Western Caucus
Norwegian Caucus
Rural Education Caucus
National Guard Caucus
E-911 Caucus
Rural Health Caucus
General Aviation Caucus
Impact Aid Coalition
Senate Republican High-Tech Task Force
Senate Veterans Jobs Caucus
Unmanned Aerial Systems Caucus
Hydrogen Fuel Cell Caucus
ICBM Coalition
Port-to-Plains Caucus
UAS Integration Working Group
Senate Cultural Caucus
Former Governors Caucus
Broadband Caucus
Broadcast Caucus
Law Enforcement Caucus
Senate Entrepreneurship Caucus
Senate Defense Communities Caucus
Rare Disease Congressional Caucus
Offices
Bismarck
U.S. Federal Building
220 East Rosser Ave.
Room 312
Bismarck, ND 58501
P: 701-250-4618
F: 701-250-4484
Directions 
Grand Forks
Federal Building
102 North Fourth St.
Room 108
Grand Forks, ND 58203
P: 701-746-8972
Directions 
Western North Dakota
204 N. Main St.
#516
Watford City, ND 58854
P: 701-609-2727
Directions 
Fargo
123 Broadway North
Suite 201
Fargo, ND 58102
P: 701-239-5389
F: 202-228-5112
Directions 
Minot
100 1st Street SW
Suite 107
Minot, ND 58701
P: 701-838-1361
F: 701-838-1381
Directions 
Washington, D.C.
338 Russell Senate Office Bldg.
Washington, D.C. 20510
P: 202-224-2551
Directions 
Contact
Email:
Web
Government Page, Campaign Site, Twitter, YouTube, Facebook, Wikipedia
Politics
Source: none
Campaign Finance
Voting Record
VoteSmart – National Key Votes & Ratings
Search
Wikipedia Entry
John Henry Hoeven III (/ˈhoʊvən/ HO-ven; born March 13, 1957) is an American banker and politician serving as the senior U.S. senator from North Dakota since 2011. A Republican, he served as the 31st governor of North Dakota from 2000 to 2010. In 2010, Hoeven was elected to the U.S. Senate, succeeding Senator Byron Dorgan, who chose not to seek reelection. Hoeven became North Dakota's senior senator in 2013 after Kent Conrad retired and was succeeded by Heidi Heitkamp, who was once Hoeven's opponent for the governor's office. Hoeven was reelected in 2016.
Before being elected governor, Hoeven was a banker who served in numerous executive roles at various banks, most notably as president of the nation's only state-owned bank, the Bank of North Dakota, from 1993 to 2000.[1] He is on the board of directors at First Western Bank & Trust and has an estimated net worth of $45 million, making him one of the wealthiest U.S. senators.[2][3][4] He is the dean of North Dakota's congressional delegation.
Early life, education, and early career
Hoeven was born in Bismarck, North Dakota, the son of Patricia "Trish" (née Chapman) and John Henry "Jack" Hoeven, Jr. His father owned a bank in Minot, North Dakota, where he worked as the president and chairman.[5] Hoeven's ancestry is Dutch, Swedish, and English.[6]
Hoeven studied at Dartmouth College, which his father also attended. Hoeven belonged to the Alpha Chi Alpha fraternity and graduated with honors with a BA in 1979. While there, he played on the men's golf team.[7]
After Dartmouth, Hoeven attended the Kellogg School of Management at Northwestern University, graduating with an MBA in 1981.[8]
Banking career
From 1986 to 1993, Hoeven was executive vice president of First Western Bank & Trust, an institution his father bought in 1970.[9][10] At one time, he owned 39% of the bank's parent company, Westbrand, Inc.[11] From 1993 to 2000, he was the president and CEO of the Bank of North Dakota, under governor Ed Schaefer.
Governor of North Dakota
2000
In 2000 Hoeven ran for governor of North Dakota as a Republican and won, defeating Democratic NPL nominee Heidi Heitkamp, 55% to 45%.
2004
Hoeven was reelected over Democratic-NPL nominee Joe Satrom with 71% of the vote.
2008
On November 13, 2007, Hoeven announced his candidacy for a third term and kicked off his campaign with stops in Fargo, Grand Forks, Bismarck and Minot.[12] He was reelected with 74% of the vote over Democratic-NPL nominee Tim Mathern. It was the first time in North Dakota history that a governor won three four-year terms in office, though the record for serving is still maintained by Bill Guy, who served 12 years.
Tenure
Hoeven's governorship included the expansion and diversification of the state's economy, which led to a 49.5% increase in the state's real gross domestic product.[13] Beginning in 2000, he directed the development of a multi-resource energy program for the state with incentives in each energy sector, making North Dakota one of the country's largest energy-producing and exporting states. The state gained nearly 40,000 new jobs during his tenure. Wages and personal incomes grew faster than the national average. For a few years, the state led the nation in export growth. In late 2006, the state's reserve rose past $600 million, and it is now over $700 million.[14]
In December 2009, Hoeven was the country's most popular governor. His approval rating stood at 87% with only 10% disapproving.[15] In January 2007, Hoeven became the nation's most senior governor, having been inaugurated on December 15, 2000, as established by the North Dakota Constitution.
U.S. Senate
On January 11, 2010, Hoeven announced he would run in the 2010 North Dakota Senate election for the seat being vacated by Byron Dorgan.[16] Hoeven defeated Democratic-NPL nominee Tracy Potter, 76% to 22%, making him the first Republican to represent North Dakota in the Senate since 1987.[17] Since 2013, Hoeven has been the dean of North Dakota's congressional delegation. As of 2018, he was listed as one of the seven wealthiest U.S. senators.[18]
For his tenure as the chair of the Senate Indian Affairs Committee in the 116th Congress, Hoeven earned an F grade from the nonpartisan Lugar Center's Congressional Oversight Hearing Index.[19]
Committee assignments
Political positions
Hoeven was briefly a member of the Democratic-NPL Party before becoming active in the Republican Party as a district chair and volunteer.[20] He has walked a conservative line on some issues and a moderate one on others, including increasing education funding, ethics reform, compensation for teachers, as well as increased funding on infrastructure.[21] On August 10, 2021, Hoeven was one of 19 Senate Republicans to vote with the Democratic caucus in favor of the Infrastructure Investment and Jobs Act.[22]
Crime
Hoeven supports decreasing access to parole for offenders.[21] He believes that drug control policy should be a state issue, not a federal one.[23]
Economy and employment
Hoeven opposed the Employee Free Choice Act, which included a card check provision.[23]
Energy and environment
Hoeven believes that alternative fuels are a long-term solution but that increased oil drilling is required in the short term.[23] He has been a vocal advocate for the Keystone Pipeline, falsely asserting that it has never leaked and claiming that environmental risks have been exaggerated.[24][25] The Keystone Pipeline has in fact leaked twice, in 2010 and in 2016.[26]
In 2015, Hoeven submitted an amendment asserting that climate change is real and that humans are contributing to it but also that the Keystone Pipeline would not contribute to climate change.[27] His League of Conservation Voters score for 2018 was 7%.[28]
Gun policy
Hoeven consistently votes for pro-gun legislation and has earned an A+ rating from the National Rifle Association (NRA).[29] The NRA has endorsed him repeatedly, including during his campaigns for governor in 2008 and senator in 2010.[30][31]
In June 2016, Hoeven voted on four gun control proposals that were developed as a result of the Orlando nightclub shooting. He voted for Chuck Grassley's expansion of background checks and provision of funding to research the cause of mass shootings, and for John Cornyn's 72-hour wait period for purchases of guns by people on the terrorist watchlist. He voted against Chris Murphy's proposal to require background checks for every gun sale, including online sales and at gun shows, and against Dianne Feinstein's proposal to ban anyone on the terrorist watchlist from buying a gun.[32] Hoeven voted against the latter bill due to its lack of "judicial oversight or due process".[33]
Israel Anti-Boycott Act
In April 2017, Hoeven co-sponsored the Israel Anti-Boycott Act (s. 720), which would bar federal contractors from participating in boycotts against Israel or Israeli settlements.[34][35]
Immigration
In 2013, Hoeven voted for the Border Security, Economic Opportunity, and Immigration Modernization Act of 2013.[36]
LGBT rights
In 2013, Hoeven voted against banning discrimination based on sexual orientation.[37] He opposes same-sex marriage.[38]
National security
On May 28, 2021, Hoeven voted against creating an independent commission to investigate the 2021 United States Capitol attack.[39]
Taxes
Hoeven supports investment tax credits for farm investments.[23]
Women's issues
Hoeven identifies as pro-life, opposing abortion in all cases except for rape, incest, or threat to the mother's life. He opposes government funding for elective abortions and supports the Hyde Amendment, which permits federal funding for abortion services only under the above stated exceptions.[21] Hoeven voted to reauthorize the Violence Against Women Act in 2012.[21]
Electoral history
2016 North Dakota Senate Republican primary results[44]

Party
Candidate
Votes
%
Republican
John Hoeven(Incumbent)
103,677
99.57%
Republican
Write-in
445
0.43%
Total votes
104,122
100.00%
References
Further reading
External links
Issues
Source: Government page
Committees
United States Senate Committee on Agriculture, Nutrition, and Forestry
Commodities, Risk Management and Trade (Ranking Member)
Conservation, Climate, Forestry and Natural Resources
Food and Nutrition, Specialty Crops, Organics and Research
For more information, please visit http://agriculture.senate.gov 
---
United States Senate Committee on Appropriations
Agriculture, Rural Development, Food and Drug Administration, and Related Agencies Subcommittee (Ranking Member) 
Homeland Security
Defense
Military Construction, Veterans Affairs and Related Agencies Subcommittee
Transportation, Housing and Urban Development
Energy and Water Development Subcommittee
For more information, please visit http://appropriations.senate.gov
Legislation
Issues